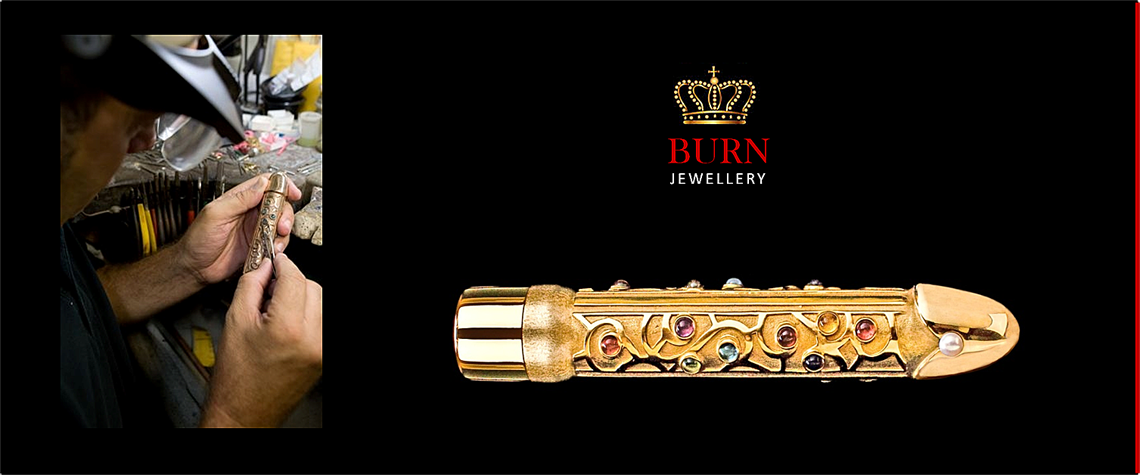 Colin Burn is an Australian jewellery artist and silversmith with over 30 years experience within the jewellery industry. After finishing his formal training in 1985 he went on to invent a unique forming process for coating natural objects with pure gold demonstrating fine and intricate detail in his workmanship. This unique development along with his creative thinking advanced his jewellery design down unconventional paths very distinct from traditional jewellery making allowing new possibilities outside of the conventional norm. In addition Burn has been quick to embrace and create new jewellery technologies that have further enhanced his workmanship making his unique conceptual dreams become artistic reality.
Burn simply states art is the most important element within jewellery design. This simple statement sounds obvious however the reality is jewellery making is often a basic mechanical process that can be easily taught and therefore is often devoid of real creative thinking and technique. In Burn's world jewellery making is his form of artistic expression which has led him to design these unique erotic pieces that command attention and as with any form of sexual art can often draw a level of controversy due to the subject matter.
Burn conceived the idea to create truly opulent sexual products as he felt no one had ever truly made a luxurious pleasure device. Many have laid claim but the reality is the market is only littered with gold plated items low in real value and masquerading as luxury. Solid gold and diamonds denote real luxury and even then one has to carefully select only the finest raw materials to create a piece of genuine luxury jewellery. It was never Burn's intention to make a range of commercial products but instead create genuine handmade luxury items for avid collectors who would appreciate his fine quality workmanship and artistic concept. Burn considers his luxury erotic creations as functional art to be both admired and enjoyed.